Drawing a Family Tree or Pedigree
There are different ways of recording your family health information. Pictured are two examples: a pedigree drawing and a family history questionnaire.
A pedigree is the term given by genetic counsellors and genetic specialists for a family tree. It gives a visual overview of the family's cancer history.
The easiest way to record your family cancer history is to download the Sydney Cancer Genetics Family History Questionnaire
.
What Information Do I Need?
The key things you need for each relative are:
Their full Name and Date of Birth (or approximate age)
If they had cancer, record how old they were they when diagnosed and what type it was
For relatives who have died, record their age and cause of death
If you don't have a lot of information about your relatives, don't worry. Just record what you know and give an estimate of how old relatives were when they died.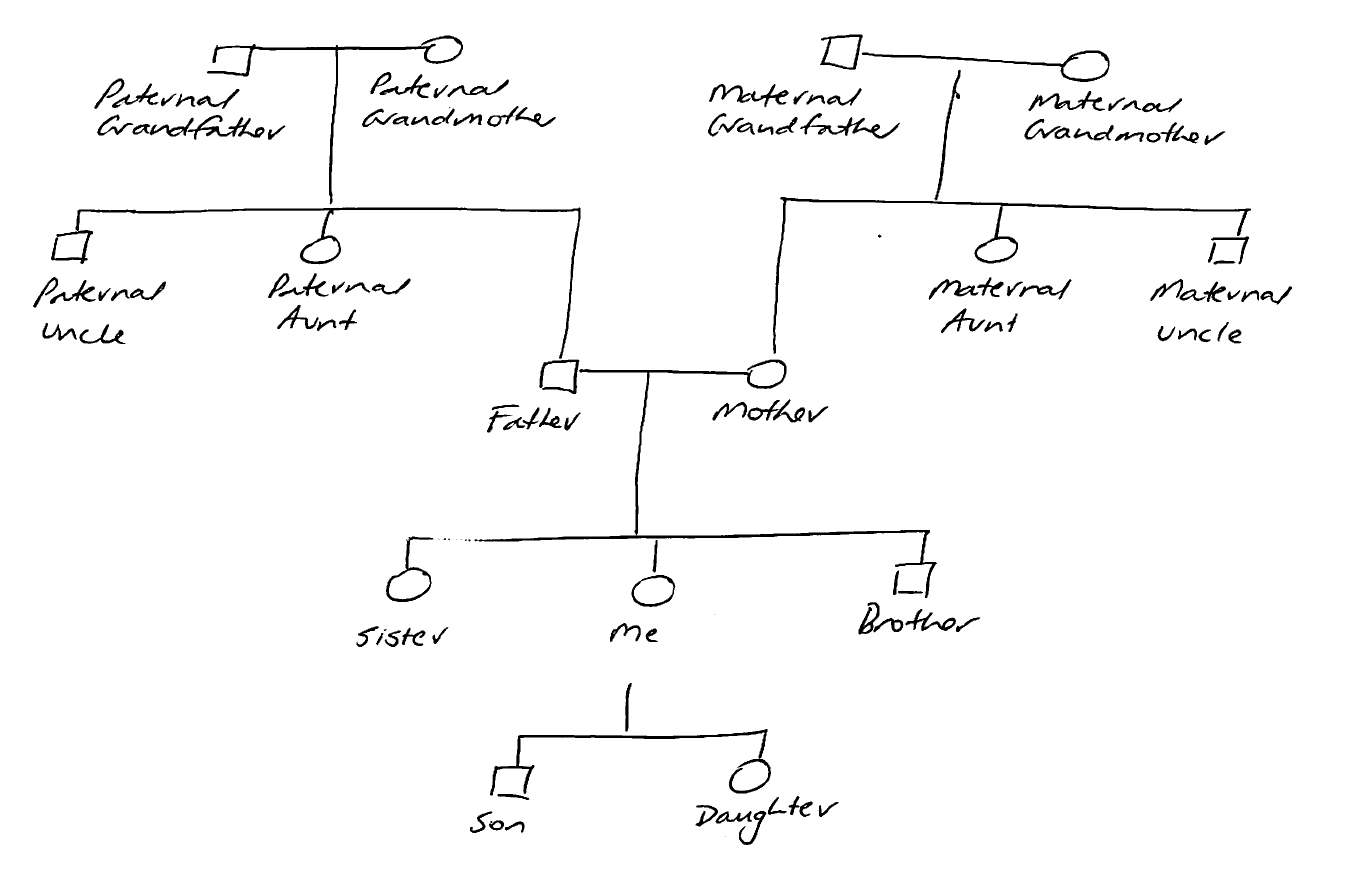 A Family Tree or Pedigree
Some documents that can be helpful regarding any cancer in your family are:
Doctors' letters describing the type of cancer and any treatment
Pathology reports about the type of cancer
Death certificates
To obtain a copy of a death certificate in Australia, you need to apply to the relevant state body (eg Service NSW or Births Deaths and Marriages Victoria). If the death was less than 30 years ago, you need to be a next of kin (a spouse, parent or child of the deceased) or have written permission from the next of kin.

A Family History Questionnaire
1
Begin by recording your family's ethnicity
(eg British, Ashkenazi Jewish, Chinese)
2
Start with yourself.
3
Then record your first degree relatives
(children, brothers and sisters, parents)
4
Followed by your second degree relatives
(grandparents, aunts and uncles, nieces and nephews)
5
Include any third degree relatives
(cousins, great-aunts and great-uncles) if they have had cancer.
6
Remember to state who they "belong" to!
This is especially important when recording the information on a family history questionnaire. For example: Jane Smith, Ben Smith's daughter.